I've hitchhiked across the whole of the North of Mexico from the US border to finally arrive at the Startup Weekend Mega Centro in Leon on time. This is the story of this awesome weekend…
1. ID Card:
Startup Weekend Mega Centro
Social innovation / Automotive / Fashion / Financial Tech editions
300 people
50% male / 50% female
+30 teams
22 organizers
40 coaches
Organization: Before you get scared by those figures, let me explain something to you… Mexicans are crazy, so crazy that they invented the concept of Startup Weekend Mega! Indeed, this Startup Weekend gathered attendees from 9 different states of Mexico in one place! There were 4 themes called "verticals": Social Innovation, Automotive, Fashion & FinTech. Each different vertical had its own attendees, coaches, facilitator and organizers. It was basically four Startup Weekends in one! As for me, I was participating in the Social Innovation vertical which was one of the biggest with around 100 attendees and 15 teams!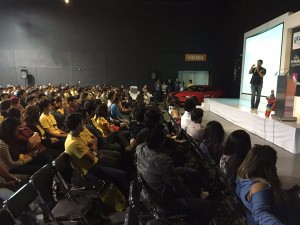 Venue: This Mega Startup Weekend was held in the parque bicentenario in Leon, Mexico. The huge center was the place where attendees of the 4 verticals were all working and expressing their ideas! As a result, the place was very loud and it was sometimes hard to follow what it is going on in your own vertical with the noise of the three other around…
2. Pitches and teams in the Social Integration vertical:
On Friday, I counted 39 pitches! Mainly young people expressed their ideas about obesity, water, tourism or diabetes! At this pitching point, the huge room of the convention center turned into a big oral mess with noises from the 4 different Startup Weekends going on but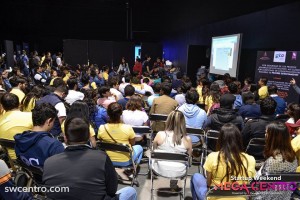 our Facilitator Luis and the others speakers used their best efforts to keep it under control! Hahaha, what a crazy night inside this huge room!
3. The team I joined: Placy
All ideas selected didn't really get my attention and once again, I was more looking for a team! Sooner I had met Mike and he seemed to be a really cool guy so I decided that I would work with him but like me, he was without a team. Later, we saw three young fellows who pitched an idea I liked about security & violence and I encouraged them to team up with Mike and I and do this project even if it hadn't been selected! It worked and two more people got onboard with us. As a result, we started – with the agreement of the SW organization – to work on an unselected idea. Those things happen… We were 7 and Mike and I were the oldest with 26 and 24 years old haha!
Our main advantage:
We had a pretty good diversity in terms of skills with two special focuses on the business and programming sides!
Our main disadvantages:
We were very unorganized and the facts that everyone was working in a loud room, with little space to express oneself and a very slow Internet connection, didn't help… We didn't work as a solid team and we didn't have a leader bringing a kind of 'Vision' into this project!
We didn't manage to find a differentiation good enough for our concept. We started working on a security idea but we pivoted on Saturday afternoon to focus on a web map for tourists showing unique traveling experiences and level of security felt. This was a major pivot and we had to deal with it even if some teammates were less comfortable with working on this idea…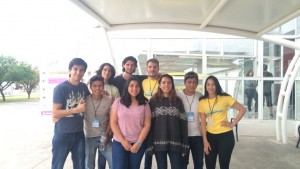 What we achieved:
We built a pretty cool platform which enables travelers to share personal traveling stories in a city along with their security experience. Our vision was to try to draw tourist and travelers away from the usual Lonely Planet or TripAdvisor maps and share more authentic paths and places in a city with them! We kept the security feature of our initial idea to try to tear down the prejudices of some travelers and tourists… Indeed, many people often don't visit places because they think they are dangerous. However, they are wrong in many cases and miss some great experiences… This is the World Traveler talking…
4. Final Pitch:
We assisted to 15 final pitches!! We were authorized to have only one single pitcher… A weird rule but we had to deal with it! It is Mike who pitched for our team and as usual, I took the responsibility to coach him with some other teammates! At the last minute, he was ready to pitch!
We knew that our project was weak on the differentiation aspects from other existing solutions. From my experience, it is very hard to come up with a kick-ass concept based
on a tourism idea… Indeed, those ideas are among the most pitched in Startup Weekends and it is a sort of pet theme that I always tried to avoid… However, it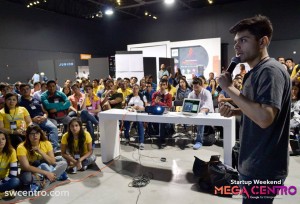 was different in our case since we pivoted from a security idea to a traveling one. We just had to deal with it and tried our best and to be honest, we did pretty good! Our pitch was very professional and we did insist on the authenticity of the experiences shared and the integration of the security for traveling stories more real!
Nevertheless, it was not enough to convince the judges and the competition was tough! The three projects that got rewarded deserved it:
1st Diario which commercializes personalized phone cases that can measure the level of glucose in the blood for people suffering of diabetes
2nd Smoky which built a public ashtray that recycles butts of cigarettes and offers a gum when trashing
3rd Clorex Brush which created a tooth brush to prevent risk of being sick from pneumonia
The three winners had both a product and an online website to inform and commercialized it! It is indeed easier to scale when selling actual products and it seemed to be very important for Mexicans apparently since 3 winners out of the 4 verticals had a similar model Product + Website!
5. The Final of the Finals:
As I said earlier, Mexicans are crazy and so was this Startup Weekend… For a last round of pitches, all attendees watched the 4 winners of each vertical on stage to decide who the Mega Winner was! Hahaha! We had a new jury for this occasion and we all listened carefully to the 4 teams and each vertical was cheering its own champion… I really felt like I was in a Harry Potter or Hunger Games movie hahaha!

Weird huh?!
In the end, the champion from the automotive vertical Nanop won with smart glasses preventing car and truck drivers from falling asleep while driving.
The second place went to my favorite: Comfy from the fashion vertical – with seven women and a man –who designed sexy bras for women who had a breast ablation due to a cancer. Stay comfortable and sexy at the same time! I loved their values!
The champion Diario from our Social Integration vertical got the third place when the Financial Tech vertical one, MoneyMate, finished fourth…
At the very end, I was given the chance to talk about my World Tour participating in Startup Weekends all over the World and I must say that it was one of my favorite talks so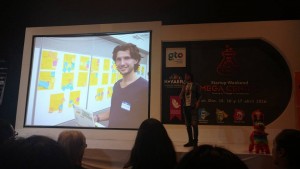 far! People were very receptive even if the crowd was a bit impressive! I had many questions and I found a real pleasure in answering them and continuing the conversation further for the most curious later on around a 'post-Startup-Weekend beer' which ended up becoming a post-Startup-Weekend full party in Guanajato near Leon haha!
6. Conclusion:
I'll end this article by saying that the Startup Weekend Mega Centro was the most impressive I ever attended in this trip! I saw passionate people building impressive projects in such a short amount of time! I saw them sleeping in tents out and working late. I saw innovations that could really change the rules… I saw a crazy event full of generous attendees, organizers, coaches and judges who were in this place to have fun before anything else! Gracias al Mega y a todos para este evento!
This article is dedicated to all the people who helped me traveling my way from the USA to Mexico! Thank you for hosting me, driving me, offering me food and for sharing great experiences with the traveler I am!

Merci!