I hitchhiked from Oslo to Goteborg with a truck driver from Romania. There, I catched a last-minute train to Stockholm. Two days later, I was at the Startup Weekend. This is the story of this amazing weekend!
1. ID Card
SW Stockholm IoT Edition – #SWSto – #STHLMThings
60 attendees
8 teams
9 coaches & mentors
17 organizers!
5th edition
IoT (Internet of Things) Special Edition
75% Male & 25% Female
Average age: 30
Very few Swedish people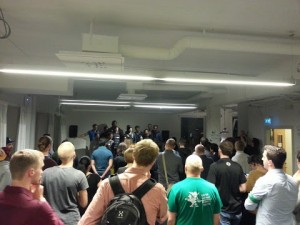 were attending… Less than 20% I would say. Norvegian and Swedish people don't really like to work for fun on weekends I guess. I met people from Poland, Maysia, Japan, Italia, France, Germany, Russia, Moldavia, India, Pakistan, Ukraine, Iran, Venezuela, Colombia, Norway, Switzerland… A very multicultural edition!
Organization: Very good! I saw an impressive team of 17 organizers who took care of attendees from A to Z. They were all very friendly! They were organizing the Startup Weekend for the 5th time and I could feel that. However, the Startup Weekend Methodology wasn't publicly shared with all attendees: no MVP, Business Model Canvas or customer validation process were mentioned.
A real great thing was the access to hardware systems! Since it was an IoT edition, we needed to build/make prototypes! We had then access to many spare parts from Arduino, Raspberry or LittleBits and that was awesome!! At the end, on 9 teams, 5 had a hardware prototype! So, organizers, you rocked this edition! Applause for you guys!
Venue: The SWStockholm IoT edition took place at Things. It is a young incubator dedicated to hardware and IoT startups. There are several startups incubated and an amazing maker space with a ton of material! The venue was spacious. So, +1 for the venue!
2. Pitchs and teams
28 ideas were pitched. Each person has 1 minute to pitch. This is the time you have in a Startup Weekend to share your idea. Be quick and precise: Problem, solution, name of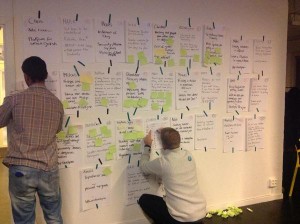 your idea, who you need. THAT'S IT! 5 women pitched and 14 projects got selected after voting… Some died on the road to end up with 8 teams. That's life.
Since it was an IoT edition, there were many challenging and crazy ideas such as a
Heping Hand to give you an umbrella in case of rainy day, a Smart Toilet System, a bow tie that would switch colors regarding your emotions or even a smart belt. On the other side, we saw many IoT ideas more common especially around the parking space or ticket problem… This sector is very crowded in my opinion. Finally, some pitchs were not at all IoT and we had ideas such as the eternal partying, travelling and dating applications along with the common food startup. But there were also more original ideas as a platform for volunteers to find the best NGOs, a biking community or a laundry booking system.
3. The team I joined: Crapify!
Pawel, a polish hardware genius pitched a toilet idea. How many times did you look up for available toilets to release yourself. How many times did you go to the toilets of your company and they happened to be all occupied? We solved that…

So, I joined the Toilet guys and it was super fun: the funniest team I ever worked with so far! Indeed, our concept was fun… I mean, we were building a system to know which toilets are available or not. Our name was fun, our logo was fun and same for the team! However, we built a very professional prototype 100% functional and we had a viable Business Model along with a market strategy. So, Fun but Pro at the end 😉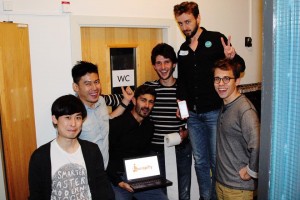 Crapify ended up as both Hardware and software solution. A device connected on toilet' locks send information on a web application that tells users which toilets are occupied or busy. We also keep data about the time average spends into toilets (so we knew who take a shit at the SWSto…), number of toilet' visitors etc etc! Our website is still running and you'll find a link soon enough below 😉
Our advantages
The ultimate A-Team! So many skills were on the table: Business, Hardware & Software development, Lean management, telecommunication system, physics and chemistry… We missed a bit of design but it didn't matter at the end because we had the right people for the right product.
A fun team. We all connected right away! We were all here for one purpose: have fun… and winning of course. With such a concept, you could make gold out of crap…
A crazy idea! Over the weekend, we buzzed… I mean, there is such a huge opportunity to go viral with this kind of idea. We didn't hit the billion views in Youtube but we got contacted by different people over Twitter (@crapify) including Tristan Pollock,
Venture Partner at 500Startups which is the second most prestigious incubator in the World… That was gold! The power of twitter…
The best group atmosphere I ever experienced so far! We met as strangers, we left as friends. When this happens, I conclude that a Startup Weekend is a true success. This is exactly what happened in this team. We even went playing Lasertag all together on the next Tuesday.
Our weaknesses – Not much to be honest…
We lost time at the beginning! We spent Friday night and Saturday morning brainstorming because we didn't want to go on with the toilet idea which, we thought, will have no viable revenue streams. We were wrong, I was wrong, the business people were wrong and hopefully, we reached an agreement: Fuck it, let's just build something fun! Our engineers started right away building crap; we took care of the business.
What we achieved
We built a 100% responsive prototype! Pawel and Kirill developed over the weekend both Hardware and Software solutions. We installed our system in the four toilets of the Incubator and we tested our solution all Sunday long! By the way, you can still go on crapify.co and see which toilets are available at the Things building 😉 Is someone in the loo? Impressive, right?
We built something more meaningful than just a winning product and that is friendship. That team is impressive in term of skills and human qualities. I hope we'll keep in touch guys!
We won the Startup Weekend Stockholm!
4. Final pitchs
We felt like Pawel, Head of Crapify or CEO of Crapify (choose the funniest), should pitch. Together with Valentino (a crazy Italian guy who hosted me to his place), we wrote a scenario comparable to a theater play. The pitch told the Story of François, a travelling guy going to Startup Weekends all over the World and eating tons of free food there but who cannot find available toilets to release himself. I was on stage with Pawel and we made an amazing duet. Oh yes, you can see the video of our pitch right here!
On the 8 teams, only 1 completely pivoted. It means that they switch their initial idea. This is something I've noticed so far; teams actually stick up to the initial idea. Only few of them pivot at the end. I would say around 2 out of 10 do pivot in average. Moreover, there were two "1-man-team" ont the top on the 8 teams. That takes courage to do a SW alone and to pitch what we've reached… #Respect
Our pitch was warmly welcome and people had a lot of fun watching us I think because our prototype was actually showing right now toilets being used and because it was a CRAZY idea! Hahahaha!
At the end, we got the first place! We won the Startup Weekend Stockholm IoT edition and going back to my sit I found a coin of 5 Swedish Krona on the floor, it's also the price of public toilet in Stockholm. That was a sign haha! The lucky 5 Krona!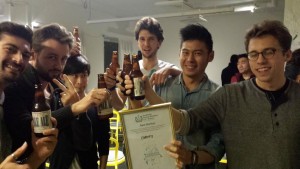 Our prize:

5 purchasing vouchers of 3000 SEK (320€) each for an IT shop
1 month of free incubation at Things
We also won the 'Best Tweet' competition and got a pack of 6 great beers!
5. Conclusion of the SWStockholm IoT Edition
It is so far, and by far, the BEST Startup Weekend I ever participated to… and I've done 8 of them… I saw a lovely organizing team, bright people, cool people, curious people, an amazing Crapify team, a crazy working concept and a beautiful city! It's the first time I'm in a team in which we built such an advanced solution just over a weekend! Now, let's keep on!


The general atmosphere was awesome! Thanks organizers for contributing to it! This is was a Startup Weekend is about: Fun and meeting people.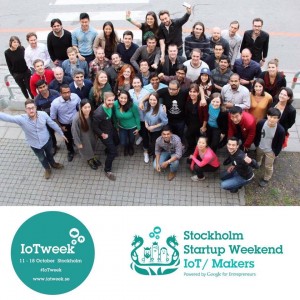 I'd like to thank my teammates Pawel, Kirill, Valentino, Kenneth and Nori for sharing with me the money of the vouchers. I'll use this money for a good purpose: travelling J Good luck with Crapify, keep me posted, and maybe see you in another life in Sweden!
Keep it real!
This article is dedicated to David Davila, Valentino Giudici (AKA DJudge) & Valentino Pacifici and Kirill Groshkov for opening their homes to a traveler passing by Stockholm. Merci.

And of course, to the Crapify team!