An entire afternoon and 3 different cars. This is what it took me to get to Munich by hitchhiking! The next day, I was in the German Alps for the Startup Weekend Die Alm in Bavaria! This is the story of this awesome weekend…
1. ID Card
SWMunich – SWDieAlm (Die Alm = The Alps)
First weekend organized in the Bavarian Alps
Future Mobility Edition
45 attendees
9 teams
15 coaches and mentors
7 organizers
75% Male / 25% Female
The SWMunich is a rolling machine with 5 years in organizing Startup Weekends. However, this edition was from a total new gender because it was hold in the German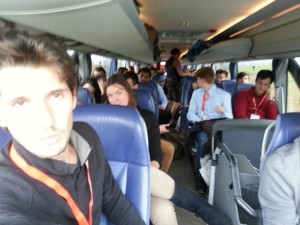 Alps! All attendees met up in Munich and got in the same bus in direction of the beautiful Bavarian Alps for an entire weekend! 2 hours of bus later, we were surrounded by fog, green grass and mountains… Fresh air for fresh ideas around future mobility!
Organization: I never saw such a good organization! Imagine what it takes to put around 50 people in a bus, send them in a cozy chalet in the Alps with awesome rooms and provide all material and food for the entire weekend! All that, two hours away from Munich! Well, this organizing team, led by Jonas AKA Typical Bavarian Guy, did the job! For most attendees, it was like being in a student integration weekend! So really guys, it was a hard task and you totally rocked it! So + 1,000,000! Next time, what we will need is just a better Wi-Fi 🙂
Venue: A lovely typical chalet lost in the mountains! We all had a room to share with 2 or 3 other attendees. Beds were awesome and the place in the middle of this nature was very relaxing. I had never seen such a thing for a SW and I think it's actually a great idea to put everyone together. As a result, the general atmosphere of the weekend was super great!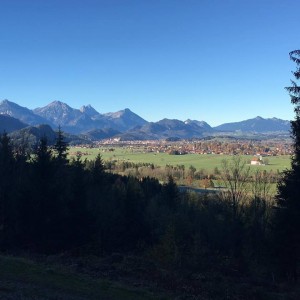 Some other activities were organized such as a running morning, in which I went with a German friend, Félix, to run untill the Neuschwanstein Castle! A hiking tour was also organized in the afternoon. And, of course, we had an awesome 'open mic' party on Saturday night haha!
2. Pitches and teams
We assisted to 22 initial pitches on Friday night! That is a great number! The organizing team fostered everyone to go and pitch! However, I have to say that most ideas were not that original… To illustrate my point; 1/3rd of total ideas were directly linked to travelling & tourism. Nevertheless, the diversity was good enough to enable everyone to find their right team. But next time, a bit more of craziness please! Come on, it's a Startup Weekend!
3. The team I joined: BikeUp
Andrès, a semi-professional cyclist, pitched this idea about tracking cyclist's routes in cities in order to bring them more security. I love biking around cities so do other people… We ended up being 4 in this team! After presenting ourselves, we directly tackled the PROBLEM to find the SOLUTION we want to bring! In a very productive evening, we came up with a concept that would help cyclists to avoid potential accidents with cars in a city. We tried to develop over the weekend a mobile application that would geolocalize cyclists, while riding their bike, and give the position information to car's drivers directly through the car's dashboard. Our solution is very complex but highly valuable since we want, in a way, to save lives.
Some coaches and mentors were also sleeping at the venue and, therefore, stayed 24/7 around. So we had coaches coming to our team from the very beginning on Friday night whereas we were only brainstorming the idea at this stage… Usually, coaches arrive on Saturday afternoon and jump into something which has already started… At first, I felt a bit uncomfortable with that but then I realized that it was actually very valuable because you get feedback right away about the feasibility or the value of your concept! And most coaches were very very helpful and smart!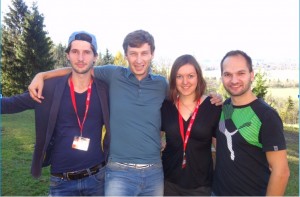 Our advantages
A team of biking aficionados: it means that we all bike in cities or we all used to. So we know how dangerous it can be sometimes. And the danger is that most cyclists think there is actually no danger…
A good mood: we spent time to get to know each other and we didn't only think about working all the time. We were pretty relaxed and this is important in order to work in the best conditions.
A simple and pragmatic solution for end users (cyclists). As our catchphrase sums it up; BikeUp is the solution to ride safely in one click. We really wanted something that easily collects data and delivers the information from and to both cyclists and car drivers.
A good knowledge of the car industry: Andrès works for Audi and two of our main coaches had their own companies in this sector. So we got very valuable pieces of advice from
them! Thanks!
Our own Internet connection… Andrès was very smart by bringing his own route. Thus, we had a very good Wi-Fi connection while other teams were struggling haha! This is my last joke…
Our weaknesses
A solution feasible but very complicated… Too complicated! There are indeed many intermediaries involved in our process. Firstly, there is the cyclist who is being tracked. His position is sent to a semi-public cloud in which data are treated and can
be bought by car's informational system to be finally delivered to the driver of a car… Here is a picture to help you understand it:
Not enough diversity in terms of skills: we were 3 business people and 1 project manager specialized in computer science.
A lack of focus in execution: it's good to be relaxed but we were not rigorous enough at some point regarding building an actual solution. We spent too much time talking & thinking about the concept to be sure it was 100% doable and user friendly and not enough time in executing something… I remind to everyone the motto of Startup Weekend: "No talk, all action". Well, we talked too much!
What we achieved
We did build a scheme that can work to collect, treat and deliver data from cyclists through an internet cloud to the driver of a car.
We found out a huge problem: bike accidents. Indeed, biking is more and more popular in cities because it is environmental friendly, easy and you got to be a Hipster… However, in most cities, bike accidents keep increasing. For example, each year in Germany, 340 cyclists died and another 70,000 are injured while riding their bike. In 1/3 of all accidents, a car is involved.
We made a great presentation in which we succeeded in explaining our complex solution in an easy and fun way!
4. Final pitches
We assisted to 9 final pitches. I was a bit surprise that most of the teams didn't have an actual prototype but, to say the truth, only few developers attended the event…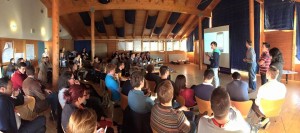 Another thing which surprised me a lot was that almost all teams had financial projections for the five next years!!!!!!!!!!!! I mean, in a Startup Weekend, this is about going way too much into details… It would be even the case for an established startup haha! Anyways, at this point, it became too serious!
We did a great pitch but the jury really pointed out our main weakness: "you're tackling a very serious problem but your solution is too complicated…" Indeed, we did too complicated. On top of that all cars will be soon equipped with sensors that will automatically break in case of potential danger such as a collision with a bike…
To sum up, we have done too complicated and our solution will not be adapted to a long term vision. Understood!
At the end, the most promising project was also a bike startup: RepairMyBike which fix your bike for any reparations as fast as possible.
5. Conclusion of the SWDieAlm

Wooow! It was such a great weekend! People were so nice and friendly! It was also very multicultural with some attendees & coaches from Romania, Israël, Iran, Russia, Austria, Bulgaria, USA, Turkey, Syria (a young refugee who just got to Germany), France… But the whole weekend was mainly attended by Ze Germans for sure! Therefore, I could clearly observe some very interesting cultural facts! This is why travelling is so awesome:
Too much thinking!! I felt like there were too few executions on this weekend ans not enough actions undertaken! Building a startup is all about discovering a solution steps by steps, it's all about changing and pivoting!
Sometimes I felt like people wanted to build a product very planned, organized and complete (e.g. the example of 5 years projections). NO! Be glad if your startup goes over the first year and build your product in cooperation with your main stakeholders (clients, users, suppliers…). You're evolving into uncertainty now. There is no way to plan things on a long term base.
Beers! Come on, we were in Bavaria and the organizing team brought enough beers to have a second Oktoberfest! Thus, we had a great Saturday night during which it was only about talking and discovering people. We all put the Startup Weekend a bit aside and just talked about ourselves! So far, the two only Startup Weekends I attended in which we did party with everyone were in Galway (Ireland) and Munich! And this is also how you build fun & great memories! After a couple of beers (ok, maybe more) I exchanged my identity with my team colleague Tim Buber… The next day, I was speaking German all over the place – I know only 20 German words – with Tim's clothes on me hahaha! That was a great moment!
Really friendly people ready to share their culture! I mean, the food, beers, German expressions such as Läuft… Those people shared so much with me over the weekend and I thank them for that! I felt like I had a true cultural exchange and I'll never forget that!
To sum-up, this weekend was sooo awesooome! I had a lot of fun and I met exceptional people! I thank this organizing team who did a great job! You brought such a cool atmosphere inside this startup weekend! I recommend the SWDieAlm to everyone who wants to share a cool weekend with cool people building cool ideas! The next one will be even more awesome I'm sure!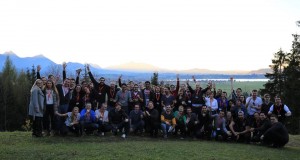 6. Winning teams
Repairmybike: Get your bike fix as soon as possible by people that can take care of the reparations
Omnigo: A all-in-one platform to buy your travelling tickets and organize easily your travels
Enablers: Help people with disabilities to receive the help of others in cities (e.g. going to university, catching a bus etc)
This article is dedicated to Cinja Voss & her Dad and Frohwalt Egerer for opening their homes to a traveler passing by Germany.

Merci.

And of course to the SWDieAlm!