(En Français plus bas) – (In French lower)

---
Brice Taton was a French football supporter from the Toulouse Football Club. He was killed in Belgrade on September 17th 2009, a few hours before the football game between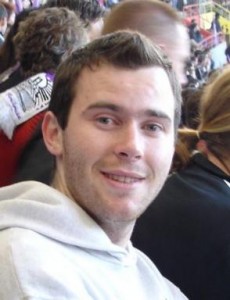 Partizan Beograd and Toulouse he came to see with his friends. A group of a dozen of hooligans surprised the French fellows at the terrace of a café in the center of Belgrade. Brice was the most seriously injured and hooligans finished him by throwing him from the top of stairs that were a 7 meters high…
Brice succumbed to his injuries few days after the aggression. In 2009, I was 18 and I remember being shocked by such violence in the sport I was playing even myself: football. My father remembers on his side the pain of Brice' parents announcing that their son could not recover from his wounds.
Last year, while living in Colombia, I started gathering more information about this tragic event. I had not forgotten Brice and still many parts of the juridical process are ongoing… I followed the entire story from the website of the family.
I was in Belgrade last week. One night, going back to the house of my friend, who generously hosted me in Beograd, I remembered Brice again and I told myself that I couldn't leave this city without going to the place where this terrible brutality was perpetrated.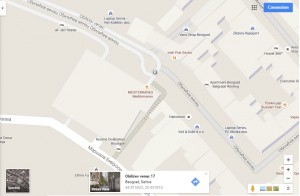 So I looked up on the Internet where it happened in Beograd by translating Serbian websites while searching on Google Maps at the same time. I eventually found the place. It is indeed in the very city center of Beograd!
So the next day, just before hitting the road to Sofia, I went to find this common street from Belgrade. It is from these huge stairs that Brice was lynched by those men who are not real Men…He fell from this height before hitting the ground: a deadly fall. At the top of these common stairs, there is a plate on the wallwritten both in Serbian and French to remind us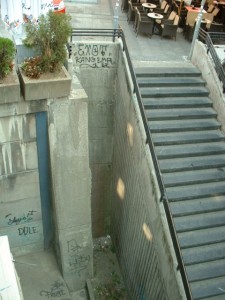 of this tragic death. Standing in front of this plate, in this very place, my eyes filled with tears; I was deeply moved.
I took my black felt pen out of my backpack and, in French, I wrote on the right side of the stairs « Pensée pour Brice 7.11.15 » i.e. Thoughts for Brice 7.11.15.
Some people go down or up these very common stairs. Some speak in Serbian while making signs towards the empty spaces surrounding it… They know what happened here, on a sad day of September 2009 where unconscious brutality and stupidity invited themselves into Football… Once again.
It's with a heavy heart that I left this central place in Beograd, I paid my own tribute to Brice and I could hit the road again. Life goes on!
---
On my way, I crossed this public park where dozens of dozens of migrants/refugees wait for days in Beograd. Volunteers had given them footballs and some were playing with smiles on their faces. It's at that moment that I saw two young men exchanging some passes. I stopped and started talking with them.
– Where are you from? I said

– We come from Kabul, Afghanistan.

They left Kabul 2 months ago and want to reach Berlin now!

What do you think is the best country to go in Europe? they asked me
I had really no idea how to answer to this question…I know what some French people think of migrants (even some of my friends) and I really couldn't tell them to go to France…

Germany seems a good choice I simply said

They speak English better than most French people. They were students in their country. One of them even played for a very good football club from Kabul.

– I'm travelling in the opposite direction than you… I'm going towards your country… I added

They stopped, looked at me and asked, so surprised:

– Why do you do that?

To travel I simply answered

So you travel just for travelling?

Yes
They didn't really understand my WHY and one of them even told me that I must be rich to do that… This is why I hitchhike and Couchsurf indeed. haha!
While having this conversation I suddenly saw myself living this famous scene from one of my favorite movies: Diarios de Motocicleta (i.e. The motorcycle diairies) by Walter Salles when the Che and his fellow traveler Alberto Granado meet a Chilean couple in the Atacama (Chili) desert running away from their country because they are communist. At this very moment, on this Beograd park, in front of these two Afghani, it was the same scene!
And then, I put my huge backpack down on the ground and we started playing football. I showed them some juggling tricks and they called me Ibrahimović as a joke! We joked, had fun and some other refugees/migrants came around as they were curious about the situation.
Before leaving the place, I shook hands with my two friends. They wished me Good Luck in my travels. I answered them that the most important was that, them, they get luck in this travel. I travel for travelling… They travel with a more meaningful purpose; they travel to live better.
On my way to reach the public bus, I regretted not having given them the 20€ I had in one of my pockets. It is what the Che does in the movie Diarios de motocicleta. But it is a movie and I'm not the Che… I had just shared a brief moment of Humanity with these two men with a football… I left feeling closer to Humans than I ever did before. Because, they are, as I am, Humans after all…
A FootBall… It has a strange duality, a yin and a yang, Brutality and Humanity, Brice Taton death and this simple moment of life. I would probably not have stopped if these two gentlemen were not playing football…
This is a story among many others and I hope to be able to share more of them with you soon… Maybe not as powerful as this one but still, optimistic stories.
François

This article is dedicated to Brice's family and friends and my two friends from Afghanistan. I hope you'll find the new life you're looking for.

---

---
Vous vous souvenezde Brice Taton? Ce supporter du Toulouse Football Club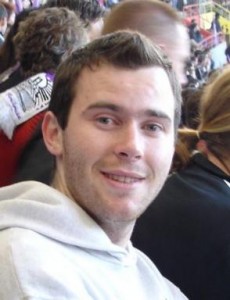 sauvagement agressé à Belgrade le 17 septembre 2009 avant le match qui opposait le Partizan de Belgrade au TFC… Brice et ses amis étaient venus voir jouer leur équipe préférée lorsqu'ils se sont fait prendre pour cible par une douzaine d'hooligans à une terrasse de café dans le centre de Belgrade. Brice fût le plus touché par cette terrible violence. Ses agresseurs l'ont en effet sauvagement pris à parti avant de le jeter lâchement du haut d'un escalier. Brice meurt àl'hôpital quelques jours plus tard des suites de ses blessures, trop lourdes malgré sa luttle pour survivre.
Je me souviens très bien de cette triste histoire… J'avais 18 ans et elle m'avait profondément touchée… Je ne comprenais pas tant de violence au sein même du sport que je pratiquais à l'époque. Mon père, quant à lui, se souvient de la douleur des parents de Brice de perdre leur fils aussi tragiquement.
L'année dernière, lorsque je vivais en Colombie, je me suis plongé davantage dans cette terrible tragédie du sport et les dossiers encore ouverts. J'ai repassé l'histoire en entier grâce au site internet de la famille. Je n'avais pas oublié Brice.
J'étais à Belgrade la semaine passée e un soir en rentrant chez mon ami serbe qui m'accueillait, je me suis rappelé Brice à nouveau ! Je me suis alors juré de ne pas quitter cette ville sans m'être recueilli à l'endroit où Brice et ses amis avaient été pris à parti… J'ai alors cherché et traduis plusieurs sites internet serbes pour trouver le lieu où cette barbarie avait été perpétuée. Je l'ai finalement trouvé. Un lieu banal du centre-ville où l'on trouve beaucoup de café et de bars me dit mon ami.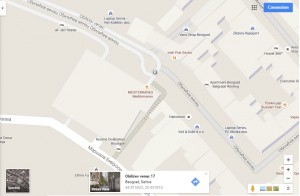 Le lendemain, avant de partir pour Sofia en autostop, je me suis donc rendu dans cette rue si simple de Belgrade… J'ai reconnu les images j'avais vues la vieille sur internet. J'étais au bon endroit. C'est du haut de cet escalier que Brice a été lynché par ces hommes qui n'en sont pas vraiment… Il a fait une chute de plusieurs mètres avant de toucher terre : un coup fatal… En haut des marches, une plaque est ancrée dans le mur sur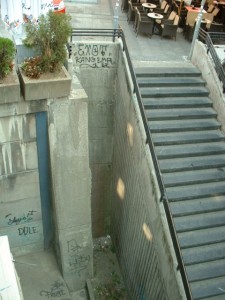 la gauche. On y lit en Serbe et en Français:
A la mémoire de Brice TATON
Il aimait la fraternité du sport.
Victime innocente d'une violence aveugle le 17/09/2009.
Mort le 29/09/2009.
Et à ce moment, juste devant cette plaque, j'ai ressenti une forte émotion. Et ce sont avec des yeux remplis de larmes qui ne coulent pas que j'ai imaginé la scène que Brice et ses amis avaient dû vivre à ce même endroit. S'en est même trop pour mon imagination…
J'ai alors respiré un grand coup, les yeux en l'air, ravalant mes larmes et j'ai ensuite sorti de mon petit sac à dos mon feutre noir avec lequel j'ai délicatement écrit sur le béton qui supporte la rampe d'escalier: 'pensée pour Brice 7.11.15'.
Certaines personnes montent et descendent l'escalier en parlant serbe et en faisant des signes vers le vide… Ils savent ce qui s'est passé ici un jour de septembre 2009 où la barbarie et la stupidité se sont invitées dans le football… A nouveau…
C'est avec le cœur lourd et les yeux fatigués que j'ai quitté cet endroit. Je me suis remis en marche. J'avais rendu mon hommage à Brice…
---
Sur ma route vers le métro, j'ai traversé un petit parc public où plusieurs dizaines de réfugiés en transit à Belgrade sont installés. Ils attendent… Des volontaires avaient amené des ballons de football et certains d'entre eux jouaient avec un grand sourire. J'ai tout d'abord continué à marcher en observant certains d'entre eux puis j'ai vu deux jeunes hommes échanger quelques passes. Je me suis alors arrêté devant eux et j'ai commencé à leur parler:
-D'où venez-vous ?

Ils arrêtent alors de jouer et me répondent

-Nous sommes de Kaboul, Afghanistan

Ce sont deux jeunes afghans qui ont fui Kaboul il y a 2 mois. Ils veulent maintenant rejoindre Berlin!

Quel est le meilleur pays où vivre en Europe ? me demandent-ils

Je ne sais vraiment pas quoi leur répondre alors que j'ai visité l'Europe justement… Je sais ce que pensent beaucoup de français (y compris certains de mes amis) au sujet des réfugiés et je ne pouvais vraiment pas leur suggérer la France…

L'Allemagne semble être un bon choix… ai-je simplement répondu

Ils parlent anglais mieux que la plupart des français. Ils étaient étudiants dans leur pays où l'un d'entre eux jouait même au football à haut niveau.

-Je voyage dans le sens inverse… Je vais vers votre pays, leur dis-je en reprenant la conversation

Ils s'arrêtent, me regardent, ne comprennent pas.

-Pourquoi tu fais ça ? me demandent-ils

Pour voyager, je réponds

Tu voyages pour voyager depuis la France ?

Oui
Ils ne comprennent pas vraiment ma réponse et l'un d'eux me dit même que je dois être riche pour faire cela. C'est en effet pour ça que je fais de l'autostop et du couchsurfing haha… C'est un concept très éloigné pour eux qui fuient leur pays.
C'est à ce moment précis que je me suis vu vivre cette fameuse scène du film Carnet de Voyage de Walter Salles lorsque le Che et son compagnon de route Alberto Granado rencontrent dans le désert de l'Atacama au Chili un couple de mineurs chiliens fuyant la dictature de Pinochet car ils sont communistes et risquent la mort pour cela… A ce moment, sur cette petite place de Belgrade, devant ces deux jeunes Afghans, c'était la même scène!
Puis, ce moment d'évasion est passé. J'ai posé mon gros sac à dos à terre et nous avons commencé à  échanger quelques jongles… On a rit, parlé et ils m'ont posé un tas de questions comme; entre autres, si j'étais le Ibrahimović français sur un ton blagueur ! D'autres réfugiés se sont rapprochés de nous par curiosité. Ils me regardaient jouer avec ces deux hommes et parlaient entre eux. Ca ne doit pas arriver tous les jours j'imagine. Beaucoup de personnes doivent les ignorer…
Je suis parti quelques instants plus tard en serrant la main de mes deux amis. Ils m'ont alors souhaité bonne chance pour mon voyage et je leur ai répondu que le plus important, c'était qu'eux, ils aient de la chance… Je voyage pour voyager alors qu'eux, voyagent par nécessité… pour vivre plus heureux autre part.
Je me suis remis en route, encore une fois, et en approchant du tramway que je m'apprêtais à prendre, j'ai regretté de ne pas leur avoir donné les 20€ qui trainaient dans mon portefeuille… C'est ce que fait le Che dans le film Carnet de Voyage… Mais c'est un film et je ne suis pas le Che… Au final, j'ai juste partagé un bref moment d'Humanité autour d'un ballon de football… Je suis reparti plus que jamais proche des Hommes… Car ils sont, comme moi, des hommes avant tout…
Comme quoi, un ballon de football… C'est un yin et un yang. Il y un côté noir barbare mais aussi un côté blanc Humain… Je ne me serais probablement pas arrêté si ces deux jeunes n'étaient pas en train de jouer au football…
Voici donc une histoire de voyage parmi d'autres et j'espère bientôt en narrer davantage avec toujours, ce même regard optimiste sur la vie.
Cet article est dédié à Brice, sa famille et ses amis ainsi que mes deux amis d'Afghanistan. J'espère que vous aurez cette chance de construire une nouvelle vie!